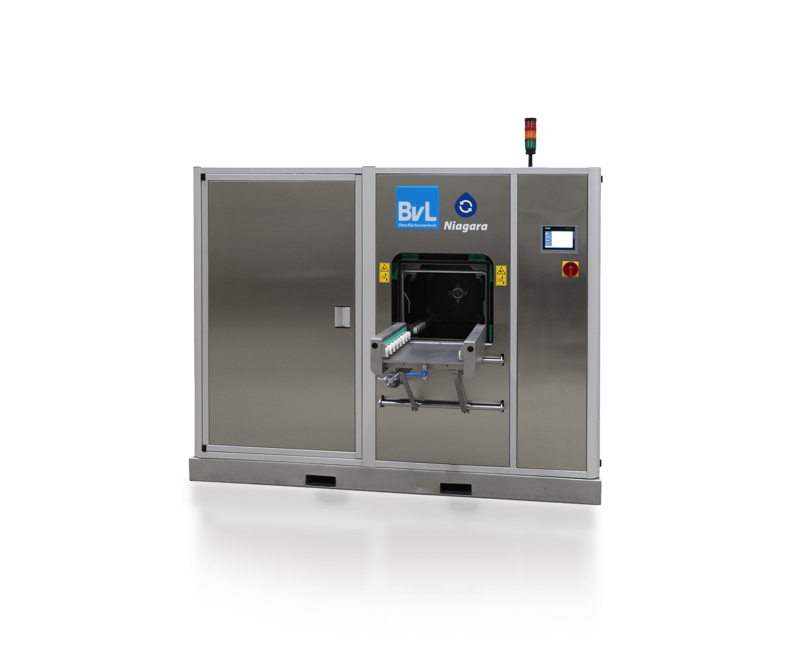 NiagaraMO
basket washing systems
NiagaraMO is a compact, two tank, flood spray cleaning system with revolving wheel technology. The system features a modern and compact design. Ultrasound cleaning (optional) achieves a high level of cleanliness. All processing steps are carried out in a chamber. The fully glazed door allows operators to view the washing process. Rotating the parts baskets or parts carriers around the horizontal axis ensures all-round thorough cleaning.
Basic system
| | |
| --- | --- |
| Cleaning system: | Spray/flood cleaning with flat spray nozzles |
| Functional principle: | Revolving wheel system with stationary nozzle frame |
| Number of tanks: | 2 |
| Loading: | Front loading through a roller guided holding fixture |
| Housing: | Compact stainless steel housing |
| Tank insulation: | Yes |
| Control and operation: | Siemens Simatic with Siemens Touchpanel |
| Bath monitoring: | Libelle Fluid Control |
Smart Cleaning

Intelligent cleaning with BvL apps and digital networking! Transparent process information for predictive system diagnostics andmaintenance: efficient and automatic.
compact and space saving
for small parts in baskets or individual parts on workpiece carriers
for components with complex geometrical shapes
for high requirements to cleanliness
Cleaning technology
Holding fixture revolves or swivels around the horizontal axis
All-round cleaning through special nozzle frame
Nozzles and nozzle frames can be adapted to the component
Usable dimensions, load capacities and pump capacities can be adapted
Processing steps
The processing steps are carried out in a chamber:
Washing and rinsing: spray cleaning, flood cleaning, injection flood cleaning, vacuum flood cleaning (optional), ultrasound cleaning (optional)
Rinsing with demineralised water (optional)
Drying with pneumatic pulse (optional)
Hot air (optional)
Vacuum drying(optional)
Options and supplements
Drying systems
Handling systems: parts feeding carriage, cross movement table, automatic carry in and carry out, powered roller conveyor
Increased pump capacity: increased spray pressure
Bath maintenance options
Process reliability: Libelle Cleaner Control, Libelle Oil Control, Libelle Data Control, remote diagnosis
Cascade guiding
Floor drip tray
Other system components
Impressions of individual configurations