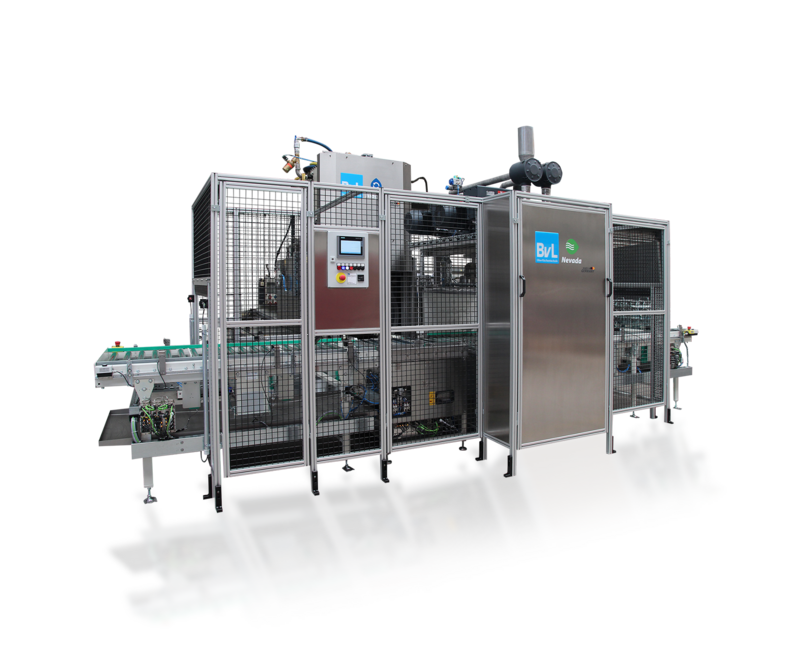 NiagaraDFS
A flood/spray cleaning system that satifies the highest cleaning requirements
The NiagaraDFS is a flood/spray cleaning system with revolving wheel technology. Rotating the parts baskets or parts carriers around the horizontal axis ensures all-round, thorough cleaning. The optional ultrasound cleaning also ensures particularly high cleaning results. All processing steps are carried out in one chamber.
Basic system
| | |
| --- | --- |
| Cleaning system: | spray/flood cleaning with flat spray nozzles |
| Functional principle: | revolving wheel system with vertical nozzle frame and optional rotating nozzle frame (rotating in same or opposite direction) for reliable cleaning results |
| Tank systems: | separately heated single-tank or multi-tank systems with a cascade arrrangement and large volumes to extend the service life of the medium |
| Loading: | front loading through a roller guided holding fixture |
| Housing: | low-maintenance stainless steel for a perfect look |
| Tank insulation: | stainless steel for high energy efficiency |
| Control and operation: | Siemens Simatic with user-friendly Siemens touch panel |
| Bath monitoring: | Libelle Fluid Control for the best quality processing water |
| Filter system: | removable basket filter removes large particles of dust during the flow back of the cleaning/rinsing process |
Smart Cleaning

Intelligent cleaning with BvL apps and digital networking.
Transparent process information for predictive system diagnostics and maintenance: efficient and automatic.
Special features/variants
Synchronized flow-through process for optimizing cycle times
for small parts in baskets or individual parts on workpiece holders
for components with complex geometrical shapes
for very high requirements to cleanliness
for applications with short cycle times
Cleaning technology
the holding fixture rotates or swivels around the horizontal axis
all-round parts cleaning using a special nozzle frame
nozzles and nozzle frames can be adapted to the component
usable dimensions, load capacities and pump capacities can be adapted
Processing steps
The processing steps are carried out in a chamber:
washing: spray cleaning, flood cleaning, injection flood cleaning, vacuum flood cleaning, ultrasound cleaning (optional)
rinsing (for multiple tank system): spray cleaning, flood cleaning, injection flood cleaning, vacuum flood cleaning, ultrasound cleaning (optional)
drying with air blast (optional), circulating air (optional) or vacuum drying (optional)
Options and supplements
Nevada drying systems
handling systems: parts baskets, loading carriage, stationary table with cross moving, bridge loader and automation
higher pump capacity for increased spray pressure
bath maintenance options (e.g. filtration systems, oil separator)
process reliability: Libelle Cleaner Control, Libelle Oil Control, Libelle Data Control, remote diagnosis
Arctic cooling systems
degaussing systems
cascade arrangement of the tanks to extend the service life of the medium
floor drip tray
other system components
Impressions of individual configurations