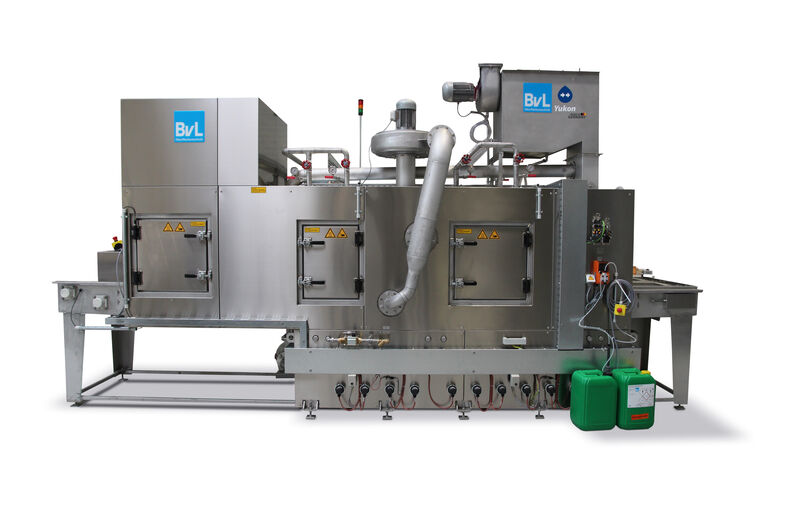 YukonDA
For clean parts on a conveyor belt
The YukonDA is a spray continuous cleaning system for continuous material flow which is adapted to customer requirements. The parts pass through the successive treatment zones continuously (cycled if required). Cleaning is carried out by moving the parts past the fixed nozzle systems.
BvL continuous cleaning system can be perfectly adapted to your production process. The nozzle systems are also customized to suit your components, ensuring thorough cleaning even in hard-to-reach places.
Basic system
| | |
| --- | --- |
| Cleaning system: | spray cleaning with flat spray nozzles |
| Functional principle: | flow-through process for continuous cleaning of the parts |
| Tank systems: | separately heated single-tank or multi-tank systems |
| Loading: | manual or automated |
| Housing: | low-maintenance stainless steel for a perfect look |
| Tank insulation: | stainless steel for high energy efficiency |
| Control and operation: | Siemens Simatic with user-friendly Siemens touch panel |
| Bath monitoring: | Libelle Fluid Control for the best quality processing water |
| Filter system: | removable basket filter removes large particles of dust during the flow back of the cleaning/rinsing process |
Smart Cleaning

Intelligent cleaning with BvL apps and digital networking. Transparent process information for predictive diagnostics and maintenance of the system: efficient and automatic.
Versions and conveyor systems
You receive the right conveyor system for your component based on its size, geometry and weight:
YukonDAK: Chain conveyor with special workpiece holders for the basket goods to be cleaned
YukonDAD: An eye link belts moves the parts through the cleaning system in a horizontal or vertical position
YukonDAH: An overhead conveyor that transports larger workpieces through the system in a suspended position
Integration into your production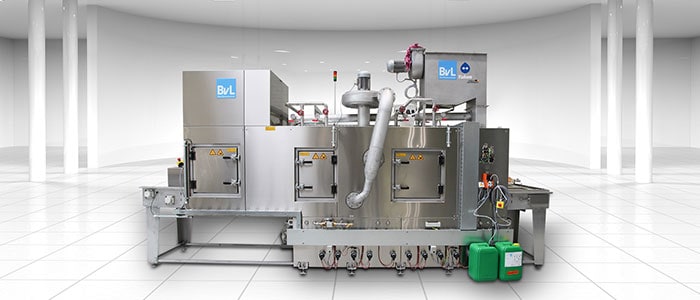 At a glance
for high throughput
for continuous material flow
as in-line solutions
for integration into the production process
Cleaning technology
surrounding nozzle frame, offset nozzle arrangement allows cleaning from all sides
separation of treatment zones reduces mixing
nozzles and nozzle frames adapted to the component
usable dimensions, load capacities and pump capacities can be adapted
Processing steps
The processing steps are carried out in successive treatment zones:
spray cleaning - sequence of different wet treatment zones (washing, degreasing, phosphating, rinsing, passivating)
drying
Options and supplements
Nevada drying systems: blow-off device, circulating air drying, vacuum drying
handling: workpiece holders, clamps, multi-track conveyor technology, with separate drives if required, adapted to the on-site conveyor technology (chutes, roller conveyors, robot loading, automation)
cleaning capacity adapted to customer requirements
bath maintenance options (e.g. filtration systems, oil separator)
cascade arrangement of the tanks to extend the useful life of media
process reliability: Libelle Cleaner Control, Libelle Oil Control, Libelle Data Control, remote diagnostics
Arctic cooling systems
degaussing systems
floor drip tray
other system components
Impressions of individual configurations